WHHS Choir to Perform Hits Through the Ages
The choral department will be holding its annual spring concert on Wednesday May 15, featuring mega pop hits through the ages, including music from Stevie Wonder, Queen, and the Beatles.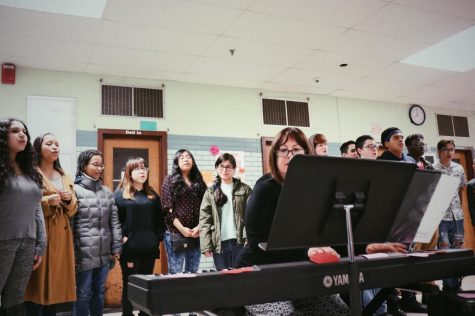 Phyllis Silver, head of the choral department, said she was rather calm about the concert.
"The music selection should please people," Ms. Silver said. "I tried to make it interesting for the students to learn and for the audience to listen to, as well as challenge the students."
She put a lot of work into creating the concert and spent hours making sure the students can perform the music properly.
Junior Shemar McKay will be in the concert and said he isn't nervous about it. He also said he will not be practicing because it is not too difficult to sing his parts in the first place.
Senior Wilson Valois said the choir has been practicing for over three months, and it's paid off.
"Everyone should could come because all of the songs are absolute classics," he said, adding that his favorites from the performance are Queen's "Bohemian Rhapsody"and the Beatles' "All You Need Is Love."
Leave a Comment