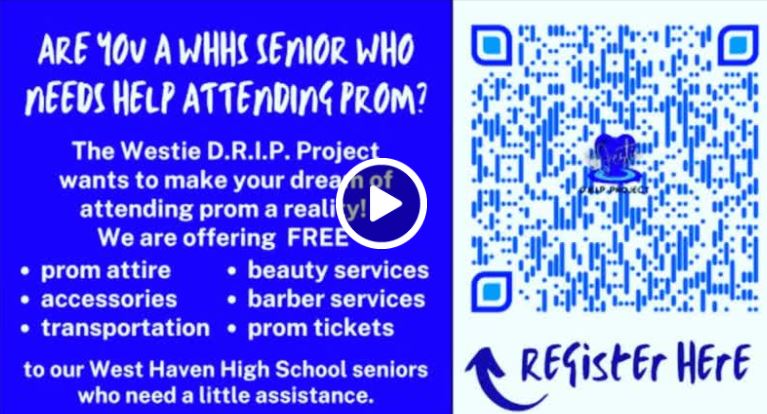 Jennifer Cummings
The West Haven High School Senior Prom is just weeks away and will be a night to remember. But for many students, the expense of the ticket and the outfit presents a big hurdle.
The WHHS Cheerleaders are working to address this challenge with the DRIP project, which provides seniors with complimentary outfits, beauty services, tickets and transportation for prom. Prom will be held on May 26th at the Woodwinds in Branford.
"DRIP is a project that can help everyone feel included, just like the name, Dream, Respect, Inclusion and Pride," said Cheer Captain Emily Hennessey.
The DRIP project has hundreds of clothing options to pick from, including suits. The dresses were donated from high-end stores—Dazzle Boutique in Oxford and Blush Bridesmaid in Guilford. The DRIP project will also offer free hairstyling for women and barbers for men.
Students who would like to try on the outfits are invited to a boutique shopping event at the end of the school day on April 7th and 8th. Transportation will be provided to this boutique, which will be at the Savin Rock Parkade. Students can anonymously fill in this Google Form to get more information. The boutique will also be available on Saturday April 9 if appointments are made.
DRIP was created by cheerleading coach Bridgette Hoskie. She said she has felt the need to support others who may need assistance. Ms. Hoskie, who serves on the city council, said she encourages seniors to reach out and ask for help when they need it.
"Senior prom is a right of passage, every student should be able to attend," Ms. Hoskie said. "I am hoping this program is a resource for kids to be able to go to prom who may not have been able to go otherwise. The hope is that not one senior is left home on May 26th."
If you'd like to learn more about this project and see some of the dresses, check out this video produced by our school news team.