Julian's Top Cars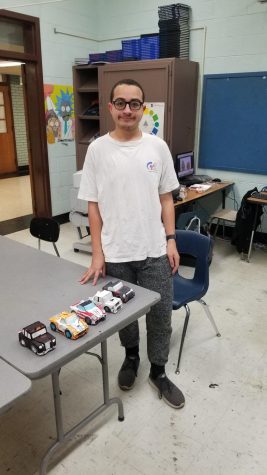 It began as a 2D project, then turned into a 3D project.
Junior Julian Reyes taught himself how to use origami to make model cars. Folding paper and using tape and scissors to make his creations. He then uses markers and crayons to add color. The cars end up being roughly the size of a brick.
Reyes' interest in making paper cars was inspired by the video games "Need for Speed," "Midnight Club" and "Gran Turismo Sports."
"He has been making a car every single day since I've known him," said art teacher Rich Debiase. "He shows them to me and he shows them to a few other people, but nobody else really knows what he does."
After he had assembled dozens, the art department thought it would be a great idea to show off his designs in the art case located by the front of the school so others could enjoy his work as well. Some of the cars displayed consist of Nissan Skyline GT-R, BMW M5 and a Chevy Bel Air.
"I feel very happy," Reyes said, noting that it was the first time he saw all his artwork in one place.
The exhibit has ended, but Reyes can still be found in the art department making his cars nearly every day.