Valentine's Day Fundraisers Support HOSA, Honor Society
Hang on for a minute...we're trying to find some more stories you might like.
This week 250 raffle tickets are being sold for a chance to win cute, cuddly, stuffed bears to celebrate Valentine's Day. Held by the nursing program, students are fundraising the money for HOSA: Future Health Professionals.
There are a variety of bears such as a single teddy bear, BFF bears, a bear couple, a momma bear and the grand prize, a human-sized bear.
Each bear comes with candies and chocolate. Tickets are being sold up until Valentine's Day or until they are all sold out. Winners will be announced on Valentine's Day, this Thursday, when kids can go home with these cuddly creatures.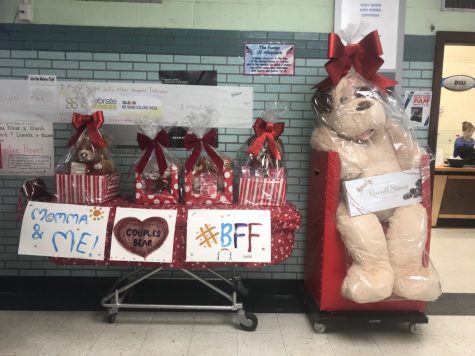 "The money raised will be given to a good cause, while also you have the chance to win a big prize," said senior Nash Noble, who is part of the nursing program.
The National Honors Society is also selling single carnation flowers. The money raised goes towards NHS.
Each flower will be passed out individually to students on Valentine's Day during first period, said senior Tiana Rojas, a National Honor Society member.