Emmy-Award Winning Editor Visits WHHS Journalism Classes
     Emmy award-winning editor Tim Mullen visited West Haven High School's Digital Media and Journalism class on Mon. March 11 to show his line of work and editing techniques in hopes of getting kids inspired to follow their passions.
      Mr. Mullen told the students it's not always easy to get to where you want to be, but it's worth the hard work if you have a job you love.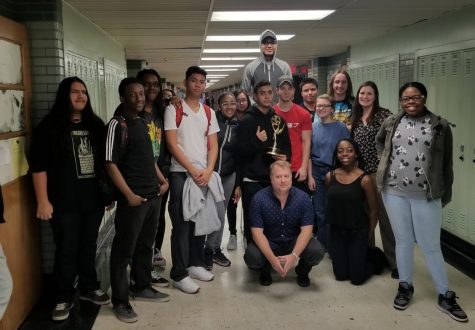 "If this is something you want to do it's worth it. When I go to work it's honestly like going to play," he said.
      Growing up Mr. Mullen said it was very challenging to get better at what he wanted to do. When he was in high school he asked his teachers if he could make a movie instead of writing an essay. Not only was this great for his grades, but it pushed him to follow his passion for editing.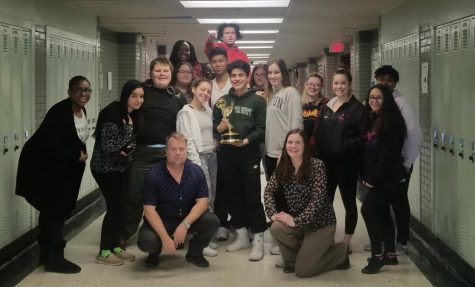 "Who wants to write a paper when they could make a movie?" Mr. Mullen said.
     What made Mr. Mullen realize he wanted to be an editor instead of a director or a producer was his very first video he put together for school. It took 25 minutes to shoot, over 8 hours to edit and was only around 2 minutes long.  Today, Mr. Mullen can get over 10 hours of footage, and it's his job to put it in the order the script is written.
      "There are times it takes six days to make a two-minute piece," he said. "Sixty hours of work for two minutes that's never played again."
        Mr. Mullen went to college for editing at Ithaca College in New York. He said he was the only person in 25 years to pass the senior-level editing class with an A. He said that's when he was 100% sure he wanted to be an editor.
After having a rough start doing menial tasks out of college, Mr. Mullen achieved his dream of being a successful editor. He has covered multiple Olympics and visited many places such as England, Sweden, Russia, China, Japan, and ESPN once sent him to Australia for three weeks.
      Mr. Mullen has also worked with Showtime, NBC, CBS, ABC, as well as HBO, USA Network, TLC, Animal Planet, and Island Def Jam. He has been nominated for an Emmy over 25 times, winning four.
       Junior Isabelle Jean-Louis said she really enjoyed Mr. Mullen's visit and thought he was a really cool guy, especially since he talked about what it's like being an editor and how he mostly spends his days sitting down hours on end.
     "I could never see myself doing something like that, it's pretty incredible," she said. "I think he deserves a lot more credit."
Leave a Comment