Football Team Ready to Put It All on the Field for Senior Night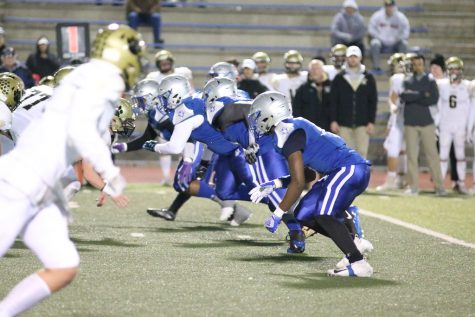 The West Haven High School football team will be playing its last home game of the regular season on Nov. 8. It will be facing Hillhouse of New Haven at 7 p.m. 
Because it is the last game at home, it is also senior night. 
The team so far has a record of two wins, four loses, and zero ties. It is currently ranked 48th in the state. 
Hillhouse has had a similar season. Its record is two wins and five losses. It is are ranked 78th in the state. 
Joe Hawkins, a sophomore on the team, said that Hillhouse is not a team to be overlooked. 
"They have just as many wins as us, and we are going to play with all we got to win this game," Hawkins said. "This is going to be a dog fight."
Coming off a tough loss against Daniel Hand High of Madison last Friday makes this game even more important. The final score against Hand, the number one ranked team in the state, was 37-0. 
But according to senior Kason Ligas, the team is doing everything it needs to prepare for the next game. 
"The team does a lot to get ready for the game," Ligas said. "We watch and study our film, practice two hours everyday, and lift during the week." 
He feels that this, combined with their determination, will win them the game. 
Hawkins also mentioned effort being put in. 
"No one has seen the work that we've put in for the last two weeks for this team. Coach Unger running the defense, Coach Bo [is] keeping everyone in check, and Coach Lucibello coming up with a game plan," Hawkins said.
The boys seem confident in their work and are generally excited for the game. But this game does not only bring excitement. It will also be sad for some. 
Senior night each year marks the end of an era for some players. Whether they continue to play in college, it is their last game of the season on West Haven turf. 
Before the game, the team will honor the 11 seniors graduating this school year.
"I'm a little nervous for senior night," Ligas said. "I have been playing football for four years and I can't imagine it actually coming to an end. I'm honestly really sad that this is my last time I will ever play at Ken Strong Stadium after years of hard work and dedication." 
The rest of the team is working hard for their seniors, Hawkins said.
"It's all of the seniors last home game and we have to play with 110 percent for those guys," Hawkins said. "They have really been great mentors and role models throughout the whole off season and into the regular season. They showed me what it really means to be a West Haven football player." 
So this week, they continued to prepare. They put the past to the side while also letting it motivate them to work harder. 
Although the game starts at 7 p.m., the senior night festivities will begin around 6:45 p.m.
Leave a Comment