Check Out Our New Social Studies Classes
Dan Izzo, Reporter
December 8, 2020
Star Wars Movie Class
Teacher: Pete Trenchard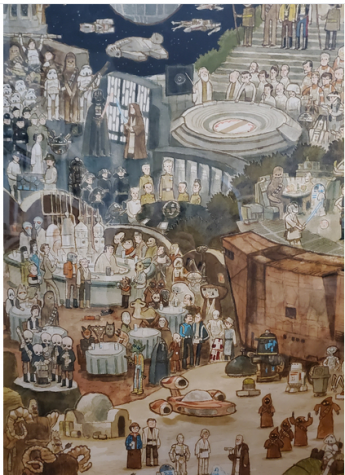 Why did you want to start this class?
The idea to pitch a class combining Star Wars and History came to me early last spring, right before we had to go on quarantine. I thought it would be a new way to look at history, by making connections to the Star Wars universe and looking at historical events as an influence for the series.
How did you start this class?
I approached Social Studies Department Head Mark Consorte and District Social Studies and English coordinator Colette Bennett. They both thought it was a great idea, so I talked to Mrs. Paredes, who also loved it. I wrote a formal proposal, and it was approved. From there I had to advertise the new class, and more than 30 students signed up for it for the first year.
What lesson are you looking forward to?
Right now we are working on the Prequel Trilogy and making connections to the Rise and Fall of Ancient Rome, it's journey from a Republic to an Empire. This mirrors the Prequels exactly. I am really looking forward to when we dive into the original Trilogy and how that compares to Nazi Germany and World War II. There is so much history to draw from, the connections are endless!
What is the class girls-to-boys ratio?
The class is mostly made up of boys this year, a few girls that wanted to take it couldn't because of conflicts in their schedule.
Is there anything else you would like to add?
You don't have to be someone that can recite every Star Wars film line by line to take this class, or someone that absolutely loves history. There are people that have never even seen the movies before in the class, but they are still making the connections as we move through the content. The class is designed for life-long fans and people brand new to the Star Wars universe, opening up a new way for people to explore history and relate it to one of the most popular film franchises in history.
Sports in History Class
Teacher: Jason Kirck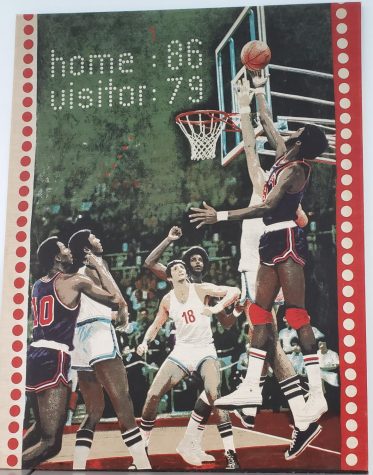 Why did you want to start this class? When did this idea of the class come to mind?
The inspiration to start the Sports and Culture Class came from the Social Studies Dept. looking to add more elective classes last winter that would be appealing to students. Many students at WHHS are passionate about sports and the idea of using the students' high interest level in sports to create a class that helps increase student literacy really appealed to me. Using sports as a vehicle to increase student skills in reading, writing, critical thinking, research and communication are the core principles of the Sports and Culture class.
How did you start this class?
It had to be approved by the SS Dept and the Administration at WHHS. A curriculum had to be researched and written as well as meeting skill-development requirements in the areas of literacy as set forth by the WHHS Social Studies Dept.
What lesson are you looking forward to?
I love sports, so to me personally, I enjoy all the lessons. It was invigorating for me to read student-created essays on topics such as: "Why I Love Sports" and "My Favorite Athlete Should Also Be Your Favorite Athlete." Currently we are taking an in-depth look at the role race plays in sports culture in America. Examining such historical figures as Arthur Ashe, Althea Gibson and the Little Rock Football Team of 1957. In addition to looking a historical perspectives, we are also making modern day connection to the role sports currently plays in the BLM Movement through many avenues including a CBS Sports Special called "What It Means To Be Me."
What is the class girls-to-boys ratio?
This is one area that I would like to see drastically improved for this course as time goes on. As a father of three girls, I am very disappointed to report that we only have one female enrolled in the course as of now. Hopefully, as word spreads about this course, more female students will register!
Is there anything else you would like people to know about this class?
If you love sports, Sports and Culture in America is the course to take! Not only will you get to study sports topics such as, The History of Sport in America, Early Sports Heroes, Baseball in America, The National Pastime, Modern Day Basketball , The NFL — Then and Now, American Sport Culture vs. World Sport Culture, Race in Sports, Gender in Sports, you will also get a great opportunity to improve your academic skills in the areas of reading, writing, note taking, research, critical thinking and communication. Hope to see many new students enroll in the course next year!
Movies That Made America
Teacher: Larry Vieira
Why did you want to start this class?
I learned about teaching this class, Movies that Made America, while I was in graduate school at Southern Connecticut State College. Back then we focused on movies from the 1960s through 1980s. Of course, I will expand into the 2000s with this class.
How did you start this class?
Mr. Backman created the class with the intention on teaching U.S. History through movies. I will show the most influential parts of the movies that will tie in my learning point of the various eras.
Is there anything else you would like to add?
For students taking the class I will get input from each in regards to movie they like and then determine if they will tie into the class.