Nursing Program Adjusting to Working Through COVID-19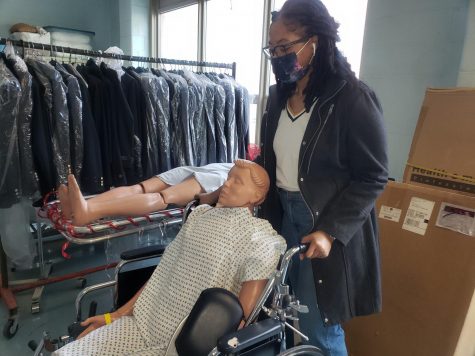 The West Haven High School nursing program is learning to adapt to the realities of working in a pandemic.
The CNA program takes up three class periods for the full school year. Normally by this time in the school year, the students in the program would be  out in the field getting work experience at Apple Rehab West Haven and RegalCare, also in West Haven. But due to the pandemic, this year's clinical work has been different.
The plan is for students to have virtual experiences online and mock-clinical experiences in the nursing laboratory per the guidelines set forth by the Department of Public Health.
"Before beginning in-person clinical, permission will be needed from school and government officials, as well as the facilities where we will be working," said nursing teacher Valerie Cosenza. "With student safety being a top concern, we are looking forward to normalcy by next year. Although not ideal, students will obtain the necessary skills and experiences to prepare for their CNA exam in an in-school setting this year."
At clinical, the nursing students shadow nurses, perform the patient-care skills while abiding by the Patient Bill of Rights, Safety Protocols, and Nursing Care Plan. Some of the skills are taking a patient's vital signs, ambulating a patient, changing bed linens, and assisting patients with grooming and dressing.
Senior Sarah Durost said she's adjusting to participating in the nursing program during the pandemic.
"I'm just as prepared as I was before Covid was around because I can still learn all that I have to know about nursing and what it's like to be a CNA," she said.
Mrs. Cosenza said her students are acquiring important skills for living in the pandemic.
"We're empowering these students with real-world employment skills that will also help keep them safe in their personal lives," she said. "My students, having studied infection control, have a much better understanding of how germs are spread and how to protect themselves from viruses by using Standard Precautions."
Standard Precautions teach students to treat all bodily fluids as if they have contagious viruses or bacteria, hand hygiene, and how to use personal protective equipment correctly.
"Besides being mindful of these best practices, we demonstrate them in our daily lives," said Senior Dan Ybanez, nursing student in Mrs. Cosenza's CNA class.
Durost said she has really enjoyed the nursing program.
"It gives students a basic idea for how a college class for nursing students is run and prepares them to pursue a job in the healthcare field," she said.
Along with receiving three high school credits, students who complete the program also receive three college credits from Gateway's Dual Enrollment Program and a State Nursing Assistant Certification. Students also acquire the soft skills necessary to successfully work in the healthcare field or advance their education into one of the many healthcare careers.
"The medical-careers education offering is a model career and technology education program," said CTE department chair Eric Rice. "Mrs. Cosenza a top-notch educator who sincerely cares about her students and has established a culture in which students can thrive."