Student Wins State-Wide Speaking Contest
Junior Lance Andriulli inspires with speech on perseverance
Junior Lance Andriulli won first place in a state-wide speaking-skills competition for Hosa: Future Health Professionals Club, with a speech focused on staying healthy, setting goals and having a positive mindset.
Andriulli said he has always dreamed of public speaking, a forum he wants to continue using to help people like him who struggle with disabilities.
"I basically want to stand up for the disabled–that's what drives me to do better," said Andriulli, who has autism, ADD and ADHD.
Andriulli competed against students from about 30 other high schools in the HOSA virtual spring conference. HOSA is an organization dedicated to preparing students for careers in health care.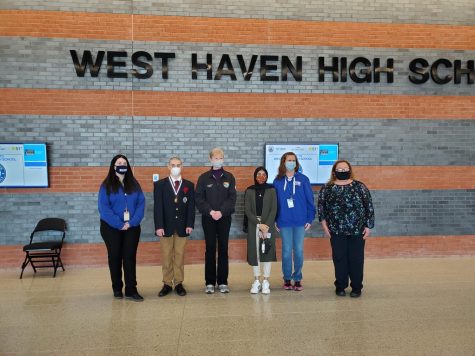 Mayor Nancy Rossi helped present Andriulli with his award in a ceremony at the high school on April 23.
Andriulli started his first-place speech with an inspirational quote he's been telling himself since he was young to help him overcome getting bullied for being different.
"We are all like gentle sunflowers in early summer without any light, but that does not stop us from growing into something beautiful," Andriulli said.
His speech advised people to eat a plant-based diet, keep a daily goal journal, and to surround themselves with good people.
Winning first place in speaking skills was a shock for Andriulli. When he joined HOSA it was with the encouragement of nursing teacher Valerie Cosenza.
"When I saw the video for the first time, I remember saying to myself: This is a gold-medal speech," Mrs. Cosenza said. "I couldn't have been any prouder."
Aside from being in HOSA, Andriulli also advocates for the mentally disabled, has a blue belt in karate, sings, takes online Yale classes and is in the youth leadership organization DeMolay. He is also academically inclined, making the honor roll throughout high school.
Drive and determination kept Andriulli going. The first few takes of his video got interrupted by his dog snoring and his cat blocking the way. Five hours later–on the 30th take–he knew he had a winner.
Andriulli, who wants to go into law enforcement or medical IT, said he feels empowered by his disability.
"To me, it's not a curse–it's a gift," he said. "My disability, it knocks me down sometimes, but it's what makes me me."
Several other WHHS students won awards in the 2021 HOSA competition:
Carly Cambino, Medical Terminology, event with the most number of competitors, Honorable mention

Meghan Smith, Sports Medicine, Honorable mention

Misha Ahmed, Community Awareness Team, 2nd Place

Aissatou Diallo, Community Awareness Team, 2nd Place

Nabiha Khan, Community Awareness Team, 2nd Place

Vinesah Mumar, Community Awareness Team, 2nd Place