Wed. 11/24 News Show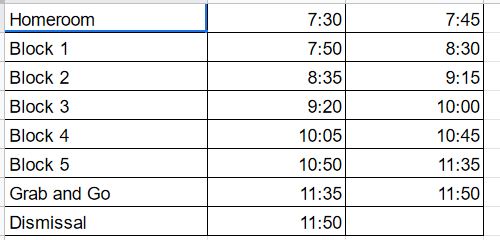 Wednesday is a half day. The schedule is on the right.
And drum roll please…in today's show we'll find out which students get to pie a teacher in the face during today's Powder Puff game.
We also had fun asking people around the school what they're grateful for as we head into Thanksgiving break.
You can play the episode by clicking the picture on the right or by following this link:
https://www.wevideo.com/view/2463413210
Announcement from the athletic director:
TRYOUT DATES AND TIMES FOR WINTER SPORTS
GIRLS BASKETBALL 11/29 & 11/30 2:00-4:00 MAIN GYM
BOYS HOCKEY 11/29 & 11/30 2:00-3:45 BENNETT RINK
BOYS BASKETBALL 12/2 & 12/3 3:30-4:30 MAIN GYM
BOYS SWIMMING 12/2 & 12/3 2:00 -4:30 POOL
INDOOR TRACK 12/2 & 12/3 2:30 -4:40 TRACK
PLEASE CONTACT THE COACH OF THE SPORT YOU PLAN TO TRYOUT FOR IF YOU HAVE NOT DONE SO ALREADY.
BOYS BASKETBALL: Ty Sullivan Tyrese.sullivan@whschools.org
GIRLS BASKETBALL: Jessica Moriarty Jessica.moriarty@whschools.org
BOYS HOCKEY: Steve Harris sureshothockeyllc@gmail.com
GIRLS HOCKEY: Erin Blake erin.blake@whschools.org
BOYS SWIMMING: Robin Viani robin.viani@whschools.org
BOYS & GIRLS INDOOR TRACK: Modestine Vaughn modestine.vaughn@whschools.org
UNIFIED SPORTS: Camdyn Morgillo camdyn.morgillo@whschools.org