Blue Devils Look to Stay Warm This Winter: 2021-2022 Winter Sports Preview
With the winter sports seasons starting, we wanted to give everyone an overview of what you have to look forward to this season.
Contributors: Haven Fowlkes, Class of 2024 and Dakota Willette, Class of 2023
Boys Hockey 
Coaches: Steve Harris, Travis Bokina, Jim Lafo, Eric Diller, Mike Violano
Captains: Joe D'Aurio, Mike Alfano, DJ Carfora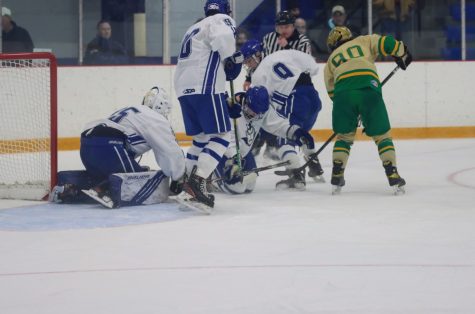 The boys hockey team has strong potential this winter. Last season, the team went 5-8-1. Due to Covid and all of the unknowns, it was difficult for any team to stand out. Despite this, West Haven had several All-SCC players on its roster. With the graduation of former goalie Charlie Miller, sophomore Javed Ullah will take over as the starting goalie this season. The team is expected to have a very strong record this season, as they would have qualified for the playoffs in previous seasons but for the pandemic canceling the postseason. As always we have our cross-town rival game against Notre Dame-West Haven on March 2, which will be at the Bennett Rink. The team also plays our long-time rival, Hamden, on Feb. 12.
Girls Hockey
Coach: Erin Blake and Jocey Morrell
Captains: Meghan Dupre (WHHS), Grace Nowak (WHHS), and Maya Boyhen (Sacred Heart Academy)
The 2021/22 girls hockey season is shaping up to be one of the most important in recent memory. Last year the team went undefeated. Despite the challenges of having a season during the pandemic, the girls made it all the way to the SCC finals and won against long-time rival Guilford. This was their first SCC victory since 2018. This season the team is expected to have a very strong record. The team is very young, with the majority of the players being sophomores. At the start of the season, they lost 3-2 to their long-time rivals, Guilford. They'll play them again at the Milford Ice Pavilion on Feb. 19.
Girls basketball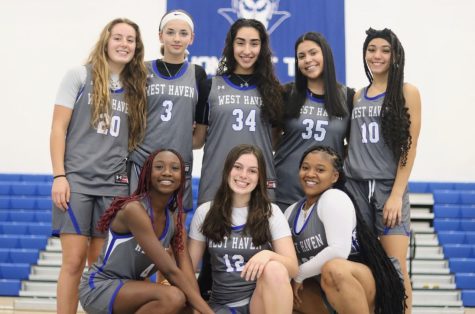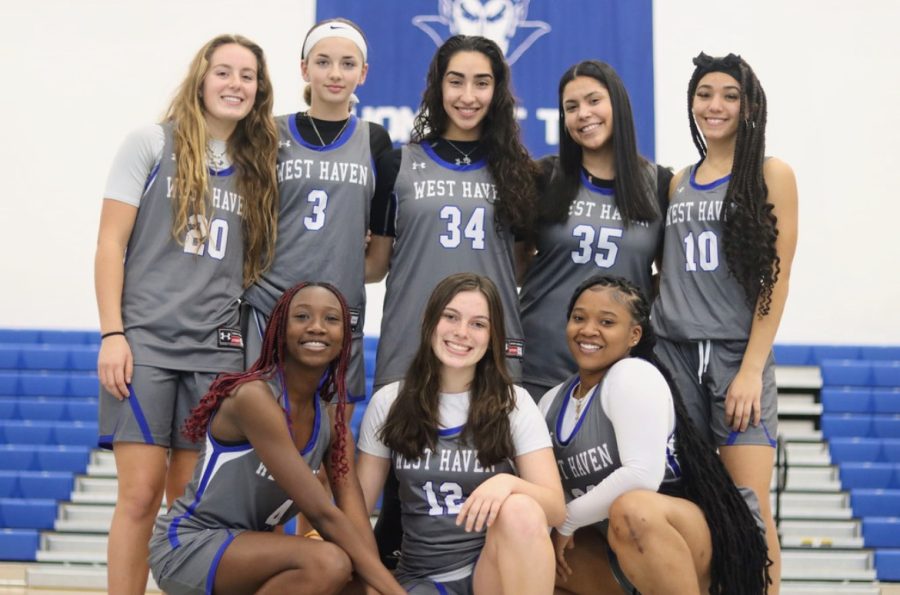 Coach: Jessica Moriarty and Steve Carden
Captains: Amani Abuhatub, Tenique Gates and Kassidy Carrano
The 2021/22 girls basketball season is off to a strong start with wins against Stamford and Lauralton Hall. Having a record of 9-5 last year, the team made it all the way to the SCC Division 2 championship, where they lost to Sacred Heart Academy. They had two players, Amani Abuhatab from ESUMs and Kassidy Carrano, go All Conference. Abuhatab also went All State. This year the team is excited for all their games and hope to make long runs in both the conference tournament as well as the state tournament. The team is looking very promising, being led by captains Tenique Gates, Amani Abuhatab, and Kassidy Carrano. There is an impressive new player playing varsity this year, Freshman Ella Morgan. So far this season, Abuhatab and Carrano have been leading the team in scoring, rebounding and assists.
Boys Basketball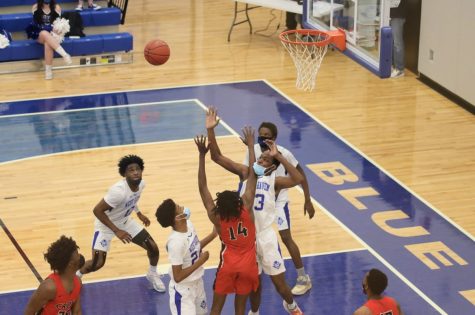 Coach: Ty Sullivan 
Captains: Kyle Kearson, Manny Belcher, Javuan Calhoun
Although the boys season has started off a little rocky, Coach Ty Sullivan said he believes his team will have a good season. "We wanted to schedule really good teams this season," he said. "Our players that we expect to have a positive impact are very young and we are hoping that this season gives them some experience to carry over to next season." Standout players are senior Manny Belcher (6'0), senior Kyle Kearson (6'3), sophomore Adam Elkharraz (6'3) and sophomore Isaiah Jackson (6'4). Unfortunately senior Javaun Calhoun (6'7) is out with a knee injury. Coach Sullivan said he expects to have a much better team by March. "More games equals more experience," he said. "We always look forward to any game we play. We treat every opponent the same."
Indoor Boys and Girls Track
Coaches:  Modestine Vaughn (head), Ryan Knight (assistant) and volunteer coaches Cynthia Latham, Robert Hayes and Aaron Vaughn

Captains: Tanasia Fidalago, Amanda Gullo, Dante Rodney and Justin Rodriguez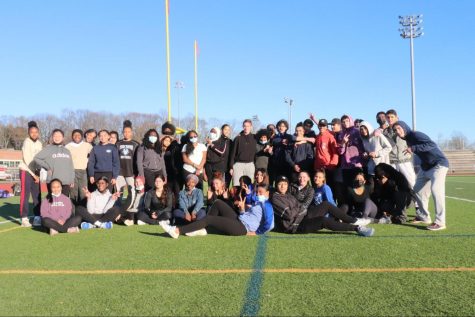 The 2021/22 indoor track season is somewhat back to normal after a peculiar season last year, when distancing between teammates caused a lack of social interaction. Additionally, the team could only compete against one other school at a time in meets. This year they have to run with masks on, which causes difficulties breathing. But overall the team is enjoying being reunited and hoping to achieve personal records. "Everyone is working hard to develop their skills for competition," Head Coach Modestine Vaughn said. "Championship competition is right around the corner so we are working hard for that." There are several strong new runners, including freshman Aylin Soto and freshman Vasillios Parsley. Other up-and-coming athletes are Quadir Blue (freshman), Amber Militrano (sophomore), Mia Rubirosa (sophomore), Dulce Castillo-Guerra (junior) and Ayannah Obas (junior). The team can compete against multiple teams during meets this year, which is more fun and competitive, Girls Captain Tanasia Fidalgo said. "I'm looking forward to the new people pushing themselves to become better athletes in track," she said. Boys Captain Justin Rodriguez also said it's great to be back to a more normal season. "I'm looking forward to developing the team further and setting them up for success in the coming years before I leave for college," Rodriguez said. Coach Vaughn said she is looking for some championship achievements from returning athletes like Fildalgo and Dante Rodney in the hurdles as well as distance runners Amanda Gullo and Alex Potter. "All in all, this is definitely a building year for my team," Coach Vaughn said.
Boy's Swim
Coach: Robin Viani, Kevin Dickson
Captain: Brian Carew, Mustansir Jamalee
This year the 2021/22 Boys swim/dive team is looking forward to returning to a normal season. Due to Covid last year, teams in the league each swam at their own pools and sent in their times. This hurt the team because swimmers tend to be more motivated when they're swimming right next to their competition, Assistant Coach Kevin Dickson said. This was the most likely reason for their 0-9 record last season. "All of the swimmers/divers are really looking forward to having that competition back," Coach Dickson said. Mustansir Jamalee, Collin Charron, Andrew McLarty, Lucas Yavagnilio, Anthony Castillo-Montenegro, and Brandon Paucar are some of the top swimmers to watch. As for divers, Senior Vincent Militrano is an athlete colleges will be looking at this year, Coach. Dickson said. If you're wondering which meets to watch this season, we recommend the Notre Dame meet at home on Feb. 18. That meet is also the team's senior night.