West Haven High School's Step and Majorette Teams Practicing Hard
West Haven High School has both a step team and a majorette team that have been practicing hard and entertaining crowds at sporting events. The West Steppers focus on drilling on beats, while the Sassy Blue Majorettes have similar moves, but are more focused on bold dancing. Both teams perform at football games, basketball games, pep-rallies, and school parades.
The West Steppers
The 15-person West Steppers team is coached by English teacher Catherine Gonzalez. She has been dancing since she was two years old, and during her senior year at West Haven High School, she was captain of the dance team.
       "I was nervous to take the coaching position for the West Steppers because, although I have a lot of dance experience, I have never done any stepping," Coach Gonzalez said. But despite her hesitation, things have been going great so far, she said.
  This team is hard-working and dedicated; they have perfect attendance for each girl showing up to practice, Coach Gonzalez said. Most of the West Steppers are new to step, but there are two returning members, juniors Abbi-Gaye Simms and Jurn'ee Pervis. 
The steppers sometimes experience stage fright, but these girls go out and give the best performance they can, pushing all the nervousness to the side, Coach Gonzalez said.
The group practices from 2:00 p.m to 3:00 p.m on Mondays and Wednesdays, and new members are welcome.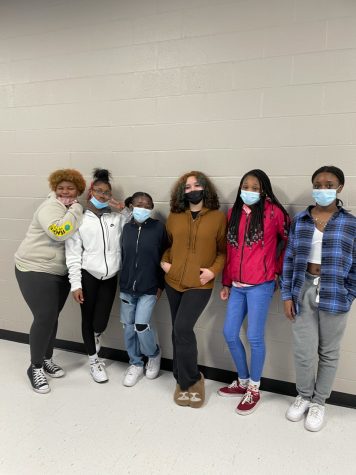 The Sassy Blue Majorettes
The Sassy Blue Majorettes team has about 17 members and is coached by Justice Smith, one of our Security Officers. 
Coach Smith isn't new to the dancing culture–she has been taking dance all her life, from African dancing to cultural dancing and more. She is a mother of five and each of her children is part of a drill/step team, and she is proud to say she is an involved mother, so she has many experiences of stepping.
The Sassy Blue Majorettes step to beats that have never been heard before. Coach Smith has her son Albear Sheffield, make beats for them. 
Sassy Blue Majorette is taking new members and is happy to welcome anyone. Boys are encouraged to try it out too. They practice from 3:00 p.m to 4:30 p.m on Mondays, Wednesdays, and Fridays.