Will You Keep Your Mask On?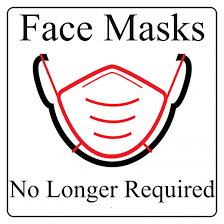 Did masks become optional in West Haven High School? Yes. 
Is the Covid-19 pandemic over? No. 
Governor Ned Lamont announced on Feb. 7 that the state was eliminating the statewide mask mandate at the end of the month, leaving it up to individual school districts to decide if they'd require masks in schools. But is the pandemic over? The answer is no.
As of March 4, the state reported a positivity rate of 2.22% and a total of 167 people hospitalized with Covid.
Gov. Lamont said that one of the reasons to take the masks off right now is that kids over the age of five had more than three months to get vaccinated and gain immunity. He also mentioned the "dramatic decline" in cases caused by the Omicron variant. 
But we need to remember that the virus is still here. Also, children under the age of five are still unvaccinated and we should protect them. 
Not only is the younger population unvaccinated, but also people who are immunocompromised, such as those with asthma, heart conditions, and many other problems. They might have the vaccine, but the vaccine does not offer complete protection.
Gail Curren, our school's registered nurse, said masks are an important tool to prevent spreading the virus to others. Curren also said she thinks she is not sure making masks optional is the right decision. 
"There is not enough data, it is too soon to take the mask off," Ms. Curren said. "There are still kids out sick."
Alexandria Zaino, another nurse in West Haven High School's nurse's office, agreed with Curren. 
When asked if she thinks that it would be dangerous if students no longer wear masks at school, Zaino said, "I wouldn't say it's dangerous, but cases would increase."
I know we are entering the third year of this pandemic, and that we have to move on. But the virus is still here. We came such a long way, we can't just take this risk right now.
I also know it might be hard to breath with a mask, and that we really want to see each other's faces again. We really want to move on, but it is not 100 percent safe to do. The best option is not doing it. 
Masks have become a daily accessory for almost everybody in the past two years, and they actually work, reducing the chances of getting the virus. There are several studies proving it. Like one study about an 2020 outbreak aboard the USS Theodore Roosevelt, found that mask wearing reduced the risk of infection by 70%, according to the Centers Disease Control and Prevention.
An example is if you are in school or work, you and your friend are both wearing masks, and your friend had the virus. The probability of you contracting the virus with both of you wearing masks is a lot less than if you were both not wearing one. 
And if you contract the virus you can possibly pass it to your loved ones at home. You can pass it to your mother, your father, your siblings, your friends, you can even pass it to your neighbors.
If cases go up again a lot of things can happen, work can go back to being from home, kids can go back to distance learning. There are a lot of consequences if we take this risk right now. 
However, on Feb. 25 the West Haven school district announced the decision to make mask-wearing optional. 
So now the choice is yours, will you keep your mask on?