Band's Spring Concert Highlights the Human Condition
West Haven High School's Blue Devil Band performed its spring concert on March 31st for all of the families and staff members who enjoy seeing the hard work of the band on display.
The theme for the concert band's performance was "The Human Condition," or human emotions, with songs like "Seize the Day!", "Nostalgia" and "That Which Binds Us." These whimsical songs evoked all of the emotions we feel on a daily basis, such as joy, anger, sadness and grief.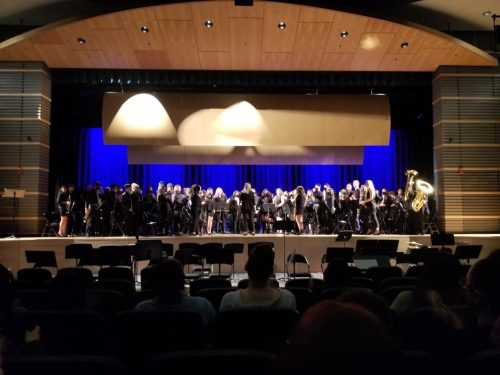 Each of these songs brought a relatable feeling of comfort throughout the audience. During one of the concert pieces, "Rage," the audience interacted with the musicians by screaming in anger with the students when cued to do so by the band director, Donata Lupacchino.
"I am so proud of this group and their musicianship and maturity while performing this concert," Ms. Lupacchino said. "The music was significantly more challenging than our Winter Concert, and they truly rose to the occasion."
There was a limited amount of rehearsals for the concert band because the stage was booked for a theater performance, and yet the week prior to the concert there were just enough rehearsals for the band to succeed with their Spring concert.
"Considering we had so few rehearsals it went really well," said senior flutist Yamilette Romero. "I really liked the music selections because they captured the human emotions."
Prior to the full concert band's concert, a new group called the Percussion Ensemble, led by senior Joshua Doody, performed. The Blue Devil Jazz Band also performed prior to the full band's concert.