Two Outstanding Staff Members Honored With Awards
Social Worker Skyla Drader won the Parent Teacher Student Association's (PTSA) 2022 "Unsung Hero" award for her actions in going above and beyond in our school community. And woodshop teacher Michael Martin was awarded the PTA Council's Marisa Matrisciano "Friends of Education" award for his dedication, leadership, and kindness to the community and to his students.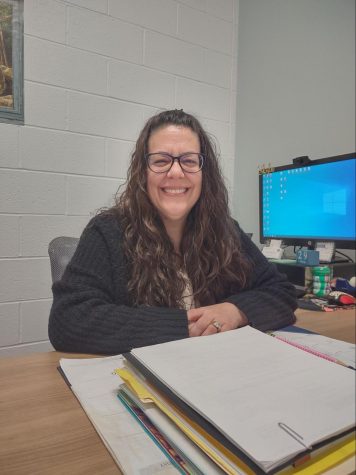 Ms. Drader is currently in her fourth year in the WHHS community. She provides social and emotional support to students based on their needs and remains in place to help them through a crisis as needed.
Ms. Drader said her favorite part of the job is that every day is a new day.
"When I walk through the door, I don't know what the day will bring," Ms. Drader said, "Some days are much busier than others, but I like that no day is ever the same."
Before coming to West Haven High, Drader worked in a residential program. She chose to become a social worker because she wanted the opportunity to positively impact the lives of others and offer support that they might be too ashamed or embarrassed to ask for on their own.
"I think it's important that mental health shouldn't have a taboo label on it," Ms. Drader said.
Mr. Martin is also in his fourth year of teaching at our school, having previously worked at Bailey Middle School for three years. He teaches woodshop and construction classes, instructing students on how to safely use tools to design, plan, and build things out of different materials.
Mr. Martin enjoys being able to spark students' interest through encouraging them to make projects they're proud of and can actually use at home.
"Almost every day I am able to demonstrate a new technique or show how just about anything can be accomplished if you're just willing to have a bit of patience and get your hands dirty for a second or two," Mr. Martin said.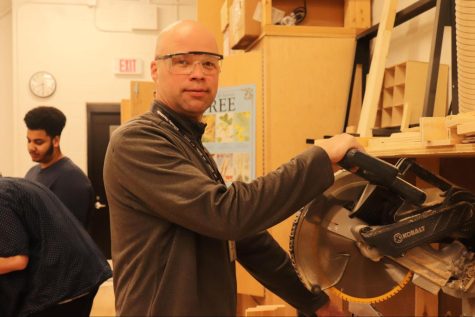 Mr. Martin mentioned one of his favorite things about his job is seeing students realize their potential through turning an idea into a finished product.
"With almost 8 billion people on the planet, we will always need to build new homes, streets, bridges, schools and hospitals," Mr. Martin said. "There are so many pieces to complete those puzzles that you could be a part of. Not just in West Haven, but anywhere in the world you are willing to go."
Mr. Martin was a perfect fit for the Marisa Matrisciano "Friends of Education" award, the PTA said.
"The Marisa Matrisciano 'Friends of Education' award is an annual award given by PTA Council to an individual we feel exhibits a strong commitment to our community, our schools, and our students," said PTA Council President Kim Kenny. "Mr. Martin embodies everything this award stands for."
Both Ms. Drader and Mr. Martin were celebrated at an awards dinner on Tuesday, April 5th in the WHHS cafeteria for all the hard work they do for this community.