Connor's Coffee Shop: Panic! At The Disco Music Review
Welcome, welcome faithful readers to my humble music review, unlike the past two articles which were older albums, today I will be reviewing a new album.
The album I will be reviewing today is:
Viva Las Vengeance – Panic! At The Disco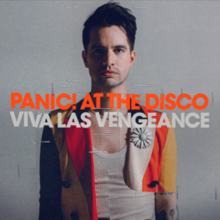 On August 19, 2022,  popular rock band turned into Brendon Urie's solo project, Panic! At The Disco, released their 7th studio album entitled "Viva Las Vengeance". However, before the album was put into stores, Urie had released 4 of the songs as singles. These songs, and the album as a whole, vary genres from song to song although it is labeled by most applications as Alternative Rock. The songs on this album take a lot of inspiration from classic rock artists such as The Beatles, The Police, and Queen. Brendan Urie recorded this album on an 8-track tape recorder, giving it that "classic rock" sound. The entire album, lyrically, is based upon his early adult years:
"[Viva Las Vengeance is] a look back at who I was 17 years ago and who I am now with the fondness I didn't have before. I didn't realize I was making an album and there was something about the tape machine that kept me honest."
On the release of the album, the internet (as the internet has and always will do) voiced their opinion on the album. The internet had some… choice words to say about it, and a lot of it was negative. Many people claimed that Panic! At The Disco is "losing their relevance" and "pushing it too far", with some people suggesting that Brendon Urie (now Panic!'s only member) just left the band. Some people claimed that Urie was pushing his voice too far, giving the album a "painful" sound. In my opinion, I think that this album gets way too much hate. It is a genuinely good album and I think people just don't look far enough into the album's meaning to really appreciate it fully. I also think that the "retro sound" kind of pushes certain people away, which is understandable because some people prefer a more modern sound. I think that's what gives this album its charm. The beautiful vocal harmonization, the striking violins, the funky horn section, and the unconventional recording technique really makes this album unique and something that is rarely seen in modern music.
Ratings
Vocals: 10/10
It is honestly rare that I give a rating a 10/10. But this is very clearly an exception. Brendon Urie is probably one of the best singers of the modern day. He can reach high notes that most cannot, he can harmonize with himself beautifully, he is a jack of all trades when it comes to singing and the vocals really blew me away.
Guitar: 8/10
There are so many different guitar parts on this album, and they all stand out. There is a perfect mix between electric guitar and acoustic guitar. There are also some pretty great classic rock-esque guitar solos.
Bass: 6/10
As I have noticed while reviewing other albums, bass is a really difficult instrument to judge. This is due to how often times the bassist needs no know exactly how much bass a song needs. Some songs need a really complex part to match the rest, sometimes all a song needs is a 3-note bass line. This album definitely got the bass part down.
Drums: 3/10
The drums on this album vary from song to song, however there seems to be a constant trend: The drummer is definitely not used to this type of music and seems to kind of drag along, with some songs having drums that feel really out of place.
Lyrics: 4/10
I think that some songs on this album have really great lyrics, while others (and I think most) have sort of lackluster lyrics. This is disappointing, especially considering that this is Panic! At The Disco, a band known for their complex lyrics.
Uniqueness: 8/10
Really, none of these songs seemed to be the same. All of the songs have their own feel and sound to it and it really shows you the wide variety of music that could be made.
Overall Score: 7/10
I think that this is a very rare album to see, especially with modern music. It is definitely a different style than Panic! At The Disco normally makes, but it is really cool to see Brendon Urie try out new music. I also think that this album gets way more hate than it should. Overall, it is a really great album and I hope to hear more from him soon.
By the way, you can request albums for me to review. If you have an album for me to review, just leave the name of it in the comments and I will write a review.
Leave a Comment