Amani Abuhatab Caps Off High School Career With Huge Season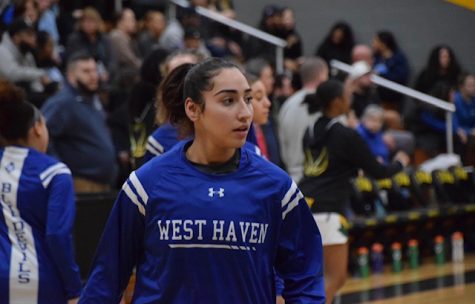 Girls basketball star Amani Abuhatab gained national recognition this basketball season after becoming the Blue Devils girls basketball's all-time leading scorer, along with collecting her 1,000th rebound.
Those achievements propelled her win as Scorebook Live's National Player of the Week for Feb. 6 to Feb. 12. Abuhatab was listed for voting on the Scorebook Live website, competing with 16 other players across the country for the award. The Westie got a staggering 24,192 votes once the polls closed–she was 5,117 votes ahead of the closest candidate. Overall that is 38.3% of the votes given to Abuhatab out of the 63,034 that were cast.
Abuhatab became the all-time leading scorer during her team's 68-42 win over Guilford on Senior Night on Feb. 7.
"I actually had no idea that I was going to break the record, I didn't even know I was close," Abuhatab said. "Coach kept it from me so I didn't feel any pressure, so when my teammates came running out I was so confused. I thought it was for my 1,000th rebound! When Coach Mo (Jessica Moriarty) told me at halfcourt I was in shock, I couldn't believe it. I don't think it really set in until after the game and I realized how amazing this accomplishment was."
"

Before Amani even came to WHHS, we knew how talented of a player she was and that big things were in store for her.

— Jessica Moriarty, basketball coach
Girls Basketball Coach Jessica Moriarty said Abuhatab is the ultimate competitor.
"Before Amani even came to WHHS, we knew how talented of a player she was and that big things were in store for her," Coach Moriarty said. "Once she entered high school we'd always say I can't imagine how this kid can possibly get better and every single year, she did."
Moriarty said her player deserves every single accomplishment that she has achieved, adding that many people don't realize Abuhatab achieved all of these records with a shortened season her sophomore year (due to Covid).
"She makes my job as a coach a bit easier," Coach Moriarty said. "She's irreplaceable. She has helped raise the bar for WHHS Girls basketball and I couldn't be more proud of her."
The 2022/23 season featured a stat line of 19.1 points per game, 3.2 assists per game along with a defensive onslaught of 2.6 steals-per-game. Career-wise Abuhatab did indeed raise the bar, having 1,469 career points and 1,086 career rebounds, both of those made her as the school all-time leader.
Abuhatab signed her national letter of intent to play NCAA Division II basketball with Mercy College in New York. The senior guard was an incredible asset to West Haven basketball, becoming one of the top-ranked girls basketball players in Connecticut.
The soon-to-be Blue Healer also made First Team all-SCC for the 2022/23 season. Abuhatab is the kind of player who truly has full-game control. Her performance and competitive mindset affected her teammates, who absorbed her positivity and talent to become better players themselves. 
The girls basketball team finished their season with a record of 18 and 7. The team lost to Enfield on March 3 in the second round of the CIAC State Tournament.
–Michael O'Brien, District Communications Director, contributed to this story.
Leave a Comment