We're working hard training our news staff for this first week of school. The news show will be back on the air Wednesday, September 6th. Please check back here every morning until then for new announcements to share with your homerooms.
Until then, here are a few announcements for you. And then scroll down for a bunch of videos you can play.
Auditions for CLUE!
WHHS Theatre Workshop is holding auditions for the fall play, Clue on Wednesday, September 6th from 2-4 in the Black Box (H123). Callbacks (if requested) will be the 7th from 2-4:30. Students will be provided with materials to read, no preparation or previous experience necessary. The show is a comedic mystery based on the classic board game full of fun characters and debauchery!! The show runs November 16, 17, 18, 2023.
Class of 2025 Meetings
The Class of 2025 Junior Class Council will meet weekly starting on Friday September 8th in the Library Conference Room immediately after school with Mrs. W. and Mr. Dickson.  New members welcome.
Creative Writing Club
Lovers of books, movies, poetry and all types of fiction, come join the Creative Writing Club.
The first meeting will be after school on Wednesday, September 13 in room D114 with Mrs. Ficaro.
College Visits
Scheduled College Visits in the Career Center room H127
Students may sign up to meet representatives, report to room H127 and sign in on the date and time listed.  You will receive your code 79 once you sign in. If you have any questions. Please see Ms. McDonnell in the Career Center.
John Hopkins University  Thurs. September 14, 2023 7:50
Mitchell College     Fri September 15, 2023        8:50 AM  
Yale University      Mon September 18, 2023      10:00 AM
 SUNY Oneonta      Thu October 12, 2023   9:50 AM
 Western New England University       Tue October 17, 2023   8:50 AM
 Central Connecticut State University Thu October 19, 2023 7:50 AM
Quinnipiac University   Oct 23, 2023  @ 10:50
Join the Golf Team
Anyone interested in playing golf this fall? Please go to the athletic department and see Mr Morrell.
Theatre Workshop Fundraiser
Theatre Workshop is selling apparel to help raise funds for our production of CLUE this fall!!  There is some great stuff for sale!
Baseball Fundraiser
Cash and orders due by 9/8.
Venmo @Dina-Jones-12
Girls Swim Team Try Outs
If you know how to swim and want to try out for the Girl's Swim Team, stop by School Counseling and ask for Coach Robin. If you have gymnastics experience and want to learn how to dive competitively off of a 1 meter diving board, please stop by School Counseling and ask for Coach Robin. Our diving coach can teach you how to dive as long as you feel comfortable in the water. A current physical is required, as well as completed athletic forms in PowerSchool. Stop by to find out what it's all about and learn how you can make a splash on the WHHS Girls Swim & Dive Team! 🙂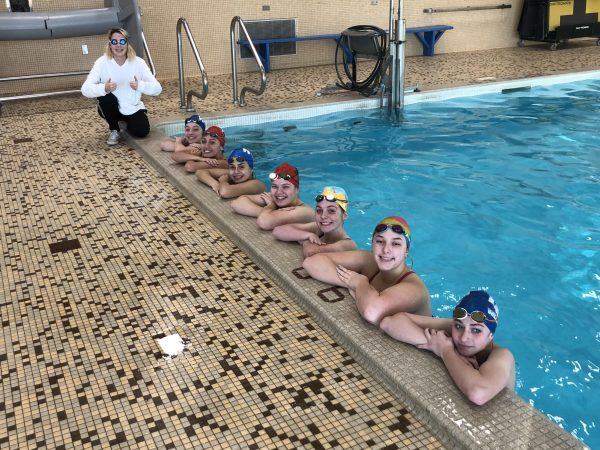 Cards for a Cause
Help the Dance Team make it an incredible year! Purchase boxed sets of 30 or 50 beautifully embellished cards with matching envelopes for only $30! Choose from 5 different themes: All Occasion 1 & 2, Thanks & Blanks, Kid's Birthday, and Holiday.
Video for Details: https://youtu.be/SwWXrIk_9Ek
Contact: LizzPetrakis@whschools.org or see any Dance Team member!
GSA Meeting
The first meeting of the West Haven High School GSA will be held after school on Wednesday, September 6th in Room D314. GSA stands for the Genders and Sexualities Alliance. It is a student-run organization that unite LGBTQ+ youth and their allies to build community and organize around issues impacting them in their schools and communities. All are welcome! Feel free to reach out to advisor Madame Reichert in Room D314 with any questions.
Metaphysical Mondays Club
The METAPHYSICAL MONDAYS club will be held after school in room D314 with Madame Reichert the second and third Mondays of the month. The first meeting will be on September 11th. Come if you are intrigued by or would like to learn more about Astrology, Angels, Psychic gifts, mediumship and healing. The club will also discuss near-death experiences; ghosts and spirits; oracle card reading; crystals, crop circles, chakras, auras and more!
Here are some fun videos you can play for your advisory classes while you wait for the news show to come back on the air…
Learn about our health center: https://www.wevideo.com/view/2989466269
Watch our talented band in concert: https://www.wevideo.com/view/3103326077
Or check out the chorus: https://www.wevideo.com/view/2914540688
Who are our teachers favorite teachers? https://www.wevideo.com/view/3050748995
Learn what books we love at WHHS: https://www.wevideo.com/view/2980743214
Here's an interview with members of our gardening club: https://www.wevideo.com/view/2928123478
A quick overview of our news team: https://www.wevideo.com/view/3105779744
Tour of the school (a bit outdated, but still useful): https://www.wevideo.com/view/2238533603
Videos about different classes our school offers…
Automotive: https://www.wevideo.com/view/2717103006
Business: https://www.wevideo.com/view/2729848089
Computer Science: https://www.wevideo.com/view/2726877796
Culinary Arts: https://www.wevideo.com/view/2590371940
Graphic Design: https://www.wevideo.com/view/2711302788
Engineering: https://www.wevideo.com/view/2731639205
Nursing: https://www.wevideo.com/view/2720967501
Seal of Biliteracy: https://www.wevideo.com/view/2839023773
English Electives Video: https://www.wevideo.com/view/2591479141
Digital Media and Journalism: https://www.wevideo.com/view/2591210511
Sports & Culture (updated Feb. 2023): https://www.wevideo.com/view/2953801275
Criminal Justice Cohort: https://www.wevideo.com/view/2595802108
Math Electives Video: https://www.wevideo.com/view/2955516893