Toys for Joy Raises Over $25,000
Over 400 Families Receive Toys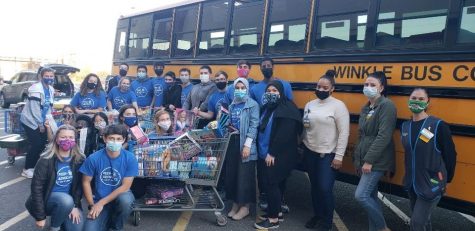 The Peer Advocates' annual Toys for Joy fundraiser has raised upwards of $25,000 to help over 400 families have a happier holiday season.
As families struggle amid the pandemic, the usual 150 requests skyrocketed this year.
The Peer Advocates asked local businesses for donations of gift cards or money. The PAs then created a raffle, with a different prize each day of December. Every day, a different peer advocate spins the wheel to find a winner.
Major donors include Westies Win, Dubel's Cafe, the boy's hockey team, the boy's baseball team, Winkle Bus Company and the police and fire departments. Other donors include Zuppardi's Apizza, Biagetti's, Mooyah Burgers, and Stowe's, along with many others.
Senior PA Mackenzie Gardner called the donations "an overwhelming amount of support."
"The way that this charity will change kids' Christmases is amazing," she said.
The PAs have been rapidly packing gift bags for all the families who have signed up, a process that has been going smoothly, according to Gardner.
The PAs have been working on this project of helping kids have a happy holiday ever since they went shopping the first time in early November.
Aside from the Toys for Joy project, the high school community is helping older students have a happy holiday with a "Giving Tree Project." The Giving Tree had 56 requests this year, up from a usual level of 15, and all requests were fulfilled thanks to donations from school staff, the City Council and the Board of Education, said Principal Dana Paredes.
Taylor Paredes, adviser for the Peer Advocates, said he's proud of the work the PAs are doing.
"It makes me feel grateful to have this many students willing to help out the younger kids who live in West Haven," Mr. Paredes said.